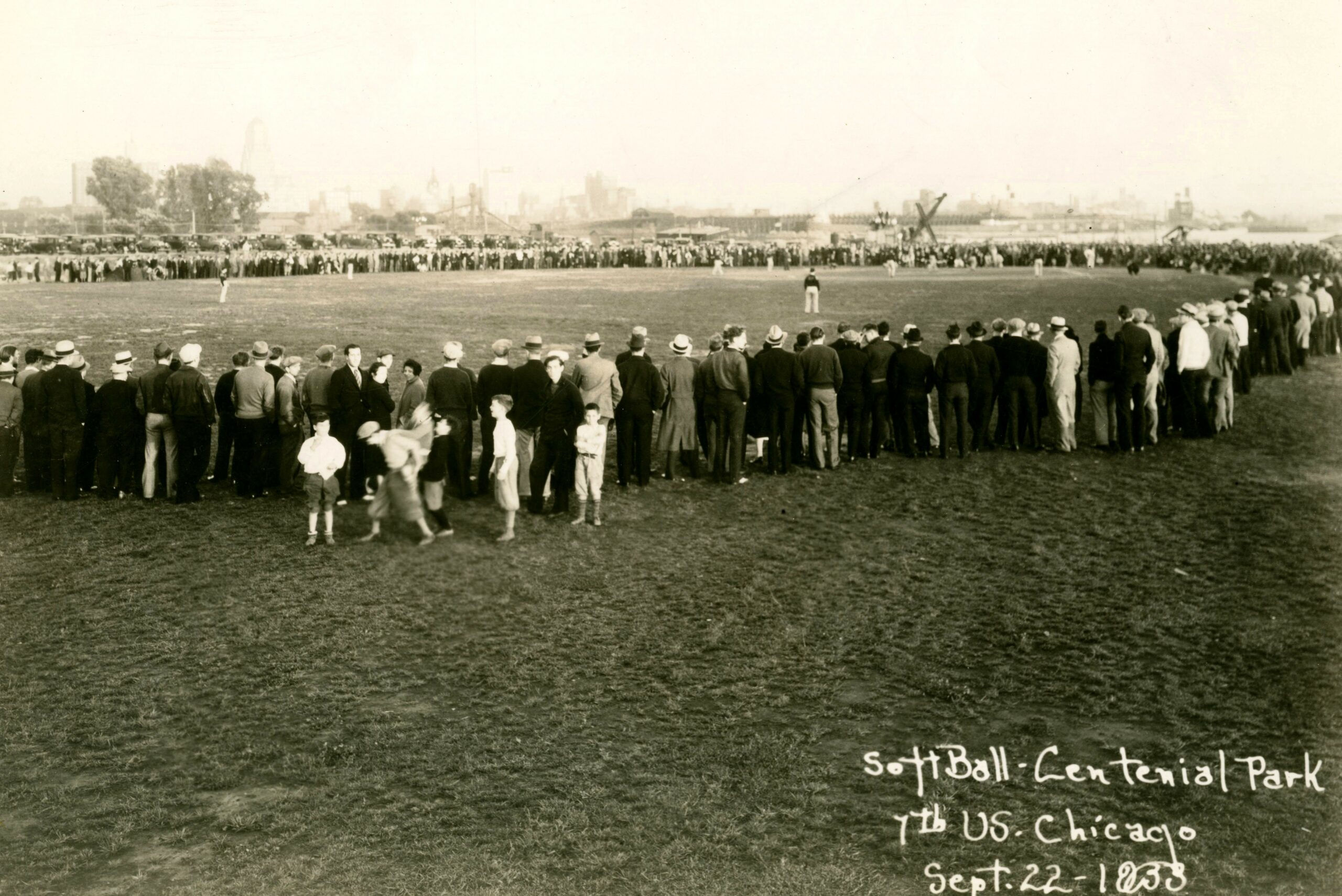 Community gathering for a softball game at the park in 1933.
Photo credit: Collection of The Buffalo History Museum. General photograph collection, Parks – Buffalo and Erie County.
Spending Time in the New Park Could Make you Healthier…But Not for the Reasons You Think
Time spent in a community park can be good for your health. Seems obvious, but the reasons are not necessarily what you think. Sure, access to fresh air and the likelihood you are engaged in physical activity can make time spent at a park good for your health. But something else researchers have linked to well-being can develop in community green space as well: neighborliness. With the redesign of the new Ralph Wilson Park, health-boasting neighborliness will be fostered to a greater degree than ever before at the Buffalo waterfront.
Scientists have investigated many influences shown to impact human health, what ultimately determines your quality of life and longevity is complex. While medical researchers often focus on influences from human biology (for example, genetic predisposition to a disease), social scientists like anthropologists are exploring non-biological health impacts.
How does the environment, culture, or social relationships contribute to community health? Across the globe, researchers have sought (and found) a number of non-biological factors that impact well-being, one of which is neighborliness. While it is a bit hard to define, neighborliness can be understood as a form of social cohesion, a state of being connected and committed to the lives of those around you. Anthropologists have found that for some, living in well-connected communities did more than just foster good health. In some places, neighborliness actually counteracted poor health outcomes otherwise expected. In communities studied around the world, people have shown resilience and higher quality of life despite having risks that degrade health elsewhere, such as income inequality. The 'health-wealth gap', a link between low socioeconomic status and poor health, has been counteracted in some communities where neighborliness is a defining feature.
To be clear, the 'health-wealth gap' is not something that can be easily solved. Communities, governments and global powers like the United Nations have a huge job in understanding health disparities stemming from wealth disparities. Despite this, paying attention to small factors that might make a difference has merit. If neighborliness can foster good health in the face of other risk factors, then supporting neighborliness should be a priority in community building. And what better way to foster neighborliness than to build a space where neighborliness thrives: a park. The redesign of the former LaSalle Park into Ralph Wilson Park will amplify community connections. This park has seen generations of community events and its new form will only increase the land's ability to connect its people.
When construction is done, Buffalo will enjoy a beautiful new bridge that directly joins immediate communities to the park, allowing safe passage for park goers. Visitors will have access to new spaces for year-round gathering in groups of all sizes, from the Great Lawn, to the kayak launch, to the gardens. Neighborliness and community-building for our littlest park guests will be fostered at state-of-the-art play places, the much-loved community pool and splash pad, and the many sports fields. With so many spaces to gather and engage, neighborliness will thrive.
The increased connection between our community is not on hold while construction unveils the final form of the park. It is being promoted right now. The redesign of Ralph Wilson Park was a community effort that built relationships starting with the Imagine LaSalle community working group. The efforts of this group then led to events that shared plans with the extended community, bringing people together to contribute ideas, share visions, and see possible new park designs. Likewise, ongoing community meetings and communications from the Ralph Wilson Park Conservancy continue to connect. The community meeting this past May alone brought more than 200 neighbors and park stakeholders together. Throughout this process of redesigning and bringing to life the new Ralph Wilson Park, community-building has been at the forefront. Neighborliness is building even before we see the final park. Over time, this focus on community will have lasting impacts on those who engage. And these impacts, among other things, could result in a healthier community overall.
This article is part of the conservancy's Heritage Engagement Project. Read more about those who history forgot, the meaning behind a name, connecting the park to a global vision, our heritage approach  and our plans to connect the community to the history and science of our park.