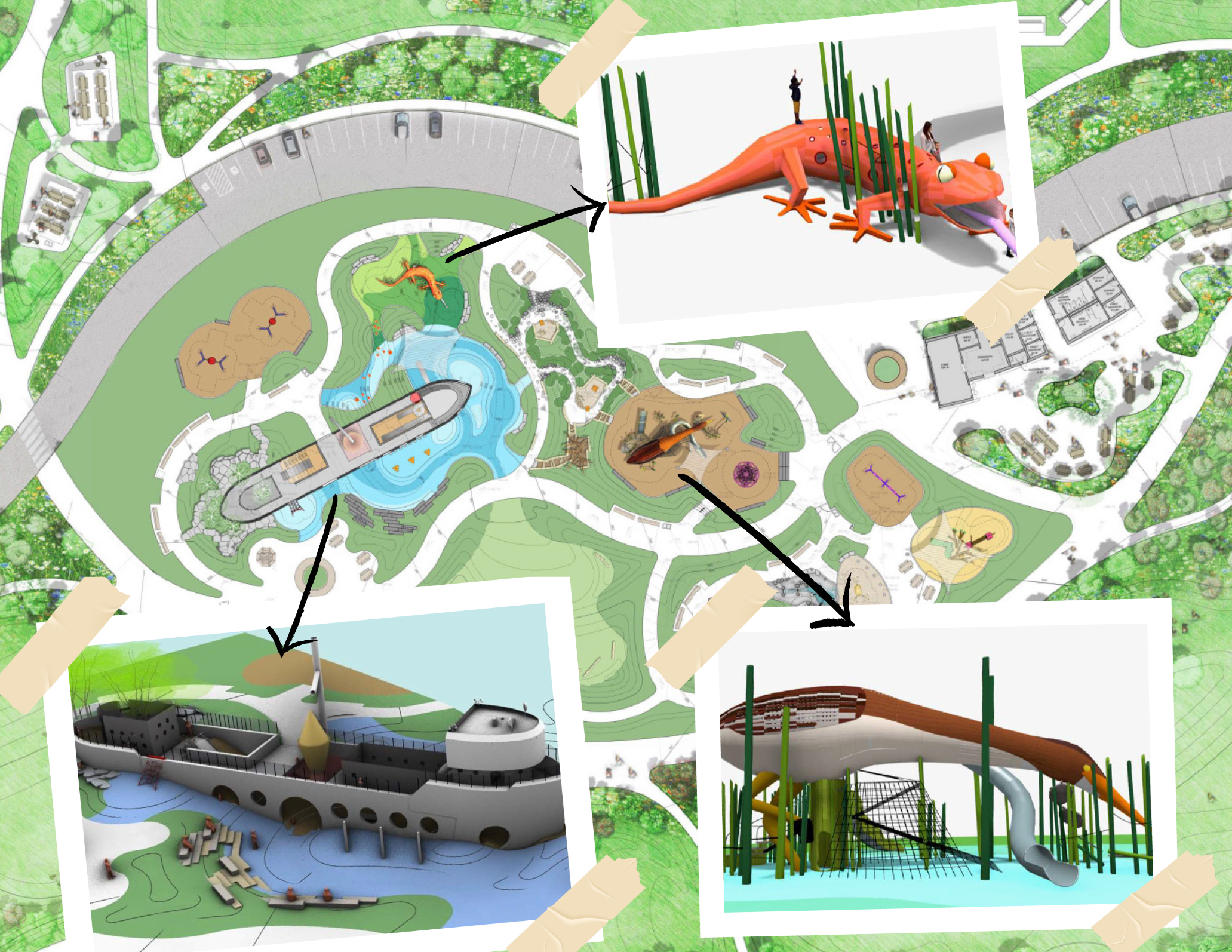 New play spaces for kids coming to the redesigned Ralph Wilson Park. 
It's hard to miss them this week. Weighed down with backpacks, pouring off buses and running across the crosswalks, Buffalo kids are hard to miss during back-to-school season. Such visibility of Buffalo's Generation Alpha inspired us to think about these important potential park-goers. What can a better park do for Buffalo's kids and how will the community-driven redesign behind this summer of construction impact our city's youngest citizens?
In scientific research, the evidence overwhelmingly shows a range of health benefits for people with regular access to nature and outdoor spaces like an urban park. It is not just physical health, research on mental health links access to green spaces during childhood with a lifetime of benefits. Earlier this summer we wrote about the United Nations' Sustainable Development Goals (SDGs), one of which focuses on building better cities with increased access to urban green spaces. In this global goal, increasing access for children is highlighted. In building a piece of natural heritage for generations to come, Ralph Wilson Park will provide an incredible resource to visitors of all ages, with kids perhaps enjoying the greatest benefits. As Buffalo will soon see, the Imagine LaSalle community group put in motion the creation of a park that will give local and visiting children a place to remember. The new Ralph Wilson Park will impact the kids of today as well as those of generations to come, reimagining what outdoor play can be in downtown Buffalo.
So what exactly is in store for children at the future Ralph Wilson Park? Let's start with the play spaces. Innovative and colorful, kids visiting the park will have their pick of spaces made exclusively for them. Soon we will see kids running wild on a massive freighter ship, exploring the belly of a giant salamander, and scaling the back of a huge bird-shaped jungle gym housed in the future play garden. The playground currently near 4th street will be reimagined as well, through a partnership with Kaboom!, a national nonprofit that works to end playspace inequity. This new playground will be designed by the kids, for the kids!. The splash pad and the park's existing community pool, the most widely used public pool in Buffalo, will continue to be highlights of the park as well, helping families cool down during the summer.
Beyond these new play spaces, kids will have access to improved baseball and softball diamonds, as well as soccer and football fields, and plenty of lawn areas for outdoor games, continuing sports traditions that bring teams like the Westside Little League back year after year. 
And there's more! In the past, access to Lake Erie was difficult and dangerous. Not anymore. The new park will feature a new lagoon for fishing and kayak launch that will make accessing our incredible freshwater lake easier for boaters and fishers. Even getting to the park will be more kid-friendly. The new pedestrian bridge will transport everyone safely across a highway that has long acted like a barrier to entering the park on foot. The built features in the final version of the redesigned park will offer so much to our younger visitors.
While the new physical features of the park will be exciting on their own, the Ralph Wilson Park Conservancy hopes to offer even more for Buffalo kids. A natural heritage place like this park opens up a world of engagement possibilities. Field trips for Buffalo schools could use the park to open young eyes to local ecology, as it will soon be filled with local plant species and friendly habitats for native critters. For older classes, a visit to learn about the shoreline restoration could supplement lessons on sustainability or environmental sciences. Likewise, the Conservancy's future plans for community programming will engage people of all ages. When the final park is revealed, the benefits to Buffalo's kids will just be starting.  
While current construction may make it hard to visualize, the final redesign of Ralph Wilson Park will be a huge investment in our city's future. Not only will this section of the Lake Erie shoreline be a revitalized destination for locals and visitors alike, access to the state-of-the-art park will better the lives of children for generations. The future is bright down at the former LaSalle Park, and our kids will be one of the biggest demographics to reap the benefits of this new green space in downtown Buffalo.
This article is part of the conservancy's Heritage Engagement Project. Read more about the importance of neighborliness, those who history forgot, the meaning behind a name, connecting the park to a global vision, our heritage approach  and our plans to connect the community to the history and science of our park.