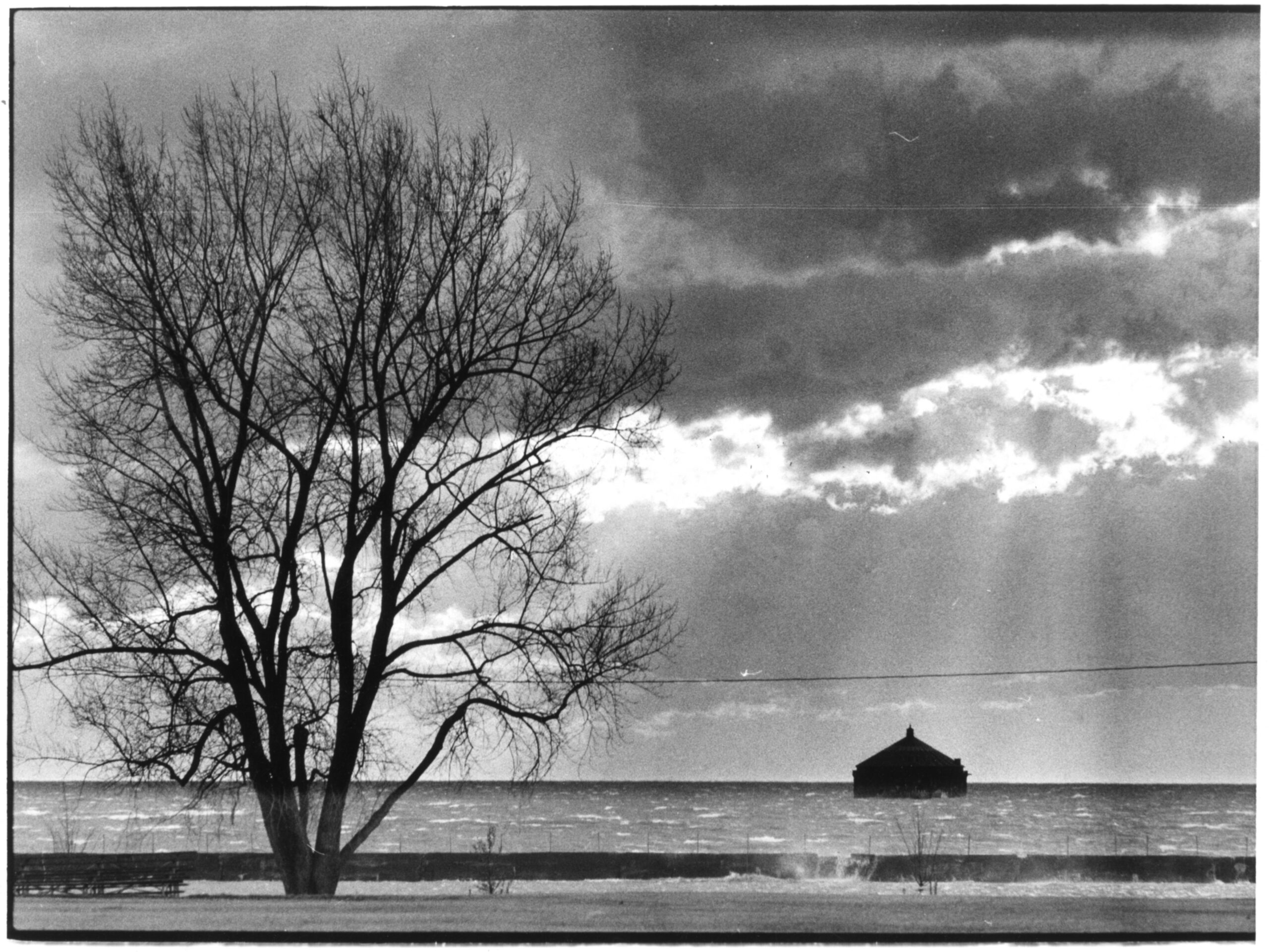 The Great Lakes are an unparalleled natural resource. Not only does fresh water not exist in this quantity anywhere else in America, it doesn't exist in this abundance anywhere else on Earth. Those who live near a Great Lake today inherited this unrivaled collection of fresh water, but many don't realize what a unique gift it is. For over fifty years, partners around the Great Lakes have made bold moves to protect our freshwater heritage; the Ralph Wilson Park Conservancy joins these efforts.  
(Caption for lead picture: View of Lake Erie from the former LaSalle Park. (Citation: Collection of the Buffalo History Museum General Photography collection, Parks – Buffalo and Erie County – Ralph C. Wilson Centennial Park)
The Great Lakes were created by glaciers thousands of years ago. Their gift of seemingly endless fresh water has always attracted humans. Indigenous communities used them long before Europeans arrived. Once European explorers set foot in North America, they too were drawn to these places, rich with water and wildlife. As cities grew up around the Great Lakes however, development activities caused harm to these natural wonders. The industrial past of the Great Lakes introduced significant problems, including soil contamination, erosion, the loss of wildlife habitats, and invasions of non-native plant and animal species. The modern human communities living around these freshwater bodies were soon impacted by a deteriorating environment. Once consumable fish and wildlife species were now riddled with toxins. Groundwater and soils were found contaminated as well. Today's Great Lakes communities have inherited these damaged environments, along with the lakes themselves.
Over forty years ago, representatives from the United States and Canada realized they had a shared problem. The Great Lakes, our massive collection of freshwater making up 20% of the world's total surface freshwater, were indeed in trouble. By the 1970s lawmakers were ready to do something about it. They came together to sign the Great Lakes Water Quality Agreement (GLWQA). Initially, this agreement focused on algae, those water plants often seen clinging to boats. Excessive algae growth was leading to other problems. The lawmakers seized a chance to limit the amount of phosphorus produced by humans (ie: fertilizer, wastewater) entering the lakes as a method to reduce algae.
In 1978, lawmakers returned to the table and penned an amended GLWQA. They now broadened their approach to include the whole ecosystem, with goals aimed at total elimination of toxic pollution. They were becoming more ambitious in their plans to reverse industrial damage.
The 1980s saw the Great Lakes Water Quality Agreement expand even further. Now, areas around the lakes particularly vulnerable were labeled 'Areas of Concern' or AOCs. Action plans were drafted, emphasizing the dire need for citizen and local government participation. Individualized plans of action focused on places where human communities faced significant reductions in the chemical, physical, or biological integrity of the water. At this time, two areas in Buffalo were given an 'Area of Concern' designation: The Niagara River AOC and the Buffalo River AOC. With these designations formalized and action plans to rectify unique challenges at both drafted, the Buffalo Niagara Waterkeeper was formed. Today, this non-governmental agency leads efforts to reverse the loss of water quality and environmental degradations, reviving the Niagara and Buffalo Rivers as well as the shoreline of Lake Erie.
Since the planning process for Ralph Wilson Park began, Buffalo Niagara Waterkeeper has worked to ensure that the concepts for a reimagined park would reconnect the surrounding neighborhoods to their waterfront, inspire climate resiliency, and protect our freshwater resources. Read our partner profile to learn more about how Waterkeeper is working to protect the shoreline at Ralph Wilson Park.
Those who live near the Great Lakes today inherited an abundance of freshwater not matched anywhere in the world. While many of us hope to enjoy our natural surroundings, its worth considering how to preserve them for future communities as well. For over fifty years, partners around the Great Lakes have worked to address environmental concerns that could destroy our freshwater heritage, but more work is needed. The Ralph Wilson Park Conservancy is joining with other partners to push the agenda, becoming more ambitious in plans to protect the natural heritage of the Great Lakes. The redesign of our park is not just creating a community place to play, the redesign is centering on environmental sustainability. Everything from the shape of the shoreline, to the replacement of certain tree species, is done with the goal of survival in mind. This space won't just showcase our freshwater heritage, it will protect it as well. Built to withstand the test of time, this park will still stand decades from now, helping Lake Erie shine as the vibrant and unparalleled gift of fresh water that it is.
This article is part of the conservancy's Heritage Engagement Project. Read more about how we've reimagined outdoor play, the importance of neighborliness, those who history forgot, the meaning behind a name, connecting the park to a global vision, our heritage approach and our plans to connect the community to the history and science of our park.